Hi everyone! This is our friend; his name is Moe. Moe is a mouse, and this year he's travelling back to the KO communities, with his house!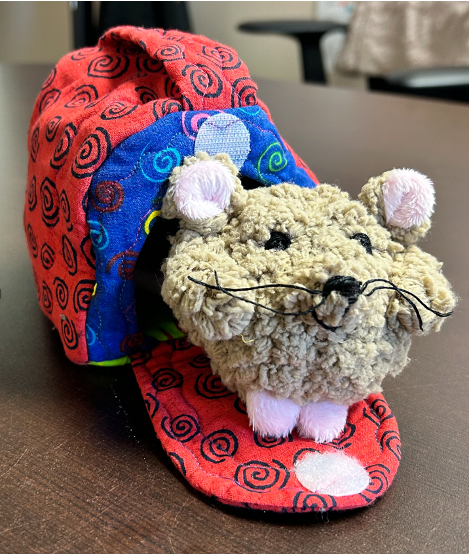 You may have met Moe and his animal friends before Covid. This year we are looking forward to bringing them back to meet all the new students.
Moe the Mouse® is owned and developed by SLPs Anne Gardner and Margaret Chesterman for BCACCS (British Columbia Aboriginal Child Care Society). The program was developed in the district of Squamish BC, with the intention of supporting Indigenous children's speech and language development through their own language.
Through the use of Indigenous toys and stories, activities are designed to provide opportunities for children to practice language skills in a natural setting.
KOBE Speech Language Assistant, Taylor Duddle, has modified programming to reflect the languages of our KO communities. Judy Barratt and others have been a huge help with this project.
Virtual weekly sessions will begin with a song to wake Moe from his home. Once Moe is awake, we will meet Moe's friend, and practice that friend's special sound; for example, the Eagle makes the /sh/ sound as its wings soar through the sky. Other activities will include; songs paired with movements, stories, arts and crafts, and talking about Moe's friend's habitats.
Doing these activities helps students develop:
Social language use
Comprehension of spoken words
Vocabulary
Discrimination of speech sounds
Ability to pronounce speech sounds
Knowledge of preposition words
Ability to express feelings and ideas
You may hear kids K4-Grade 2 talk about Moe, as many of them will meet Moe and his friends in their classrooms this year. If you have any questions about Moe (or anything else speech and language related!) feel free to reach out to us by email at kobeslp@edu.knet.ca, or on Facebook at Kobe SLP.